Regular price
$45.00 USD
Sale price
$27.00 USD
Unit price
per
Sale
Sold out
Pet oral troubles? Consider them solved! 
✨ Whiten teeth in just 1 week
🦷 Removes stubborn tartar & plaque built-up
✨ Removes bad breath
🦷 Reduces inflammation & sensitivity
✨ Repairs damaged and receding gums
✅ Suitable for dogs and cats 
🌱 Safe and natural ingredients
💜 Easy to use
Ingredients

Baking soda, galla japonica, triphala, citric acid, pepperminet extract, chamomile extract, water
Instructions

1. Lift your pet's lips on either side of the mouth.

2. Apply the Pet Oral Repair Gel directly to the mouth daily.

3. Prevent your pet from eating or drinking for one hour after application.
What's in the box?

- 1 x Pet Oral Repair Gel of 3ml
Return & Refund Policy

💯 Quality inspection on every order

✅ Safe payments via Credit/Debit Card, Paypal and Express Checkout Methods

🚚 End to end tracking on every order

👍 We love Gleam Guard and we are confident you will too! In case things don't go as planned, our return and refund policy is designed to make things as easy as possible for you. Click here to learn more about how we can help.
View full details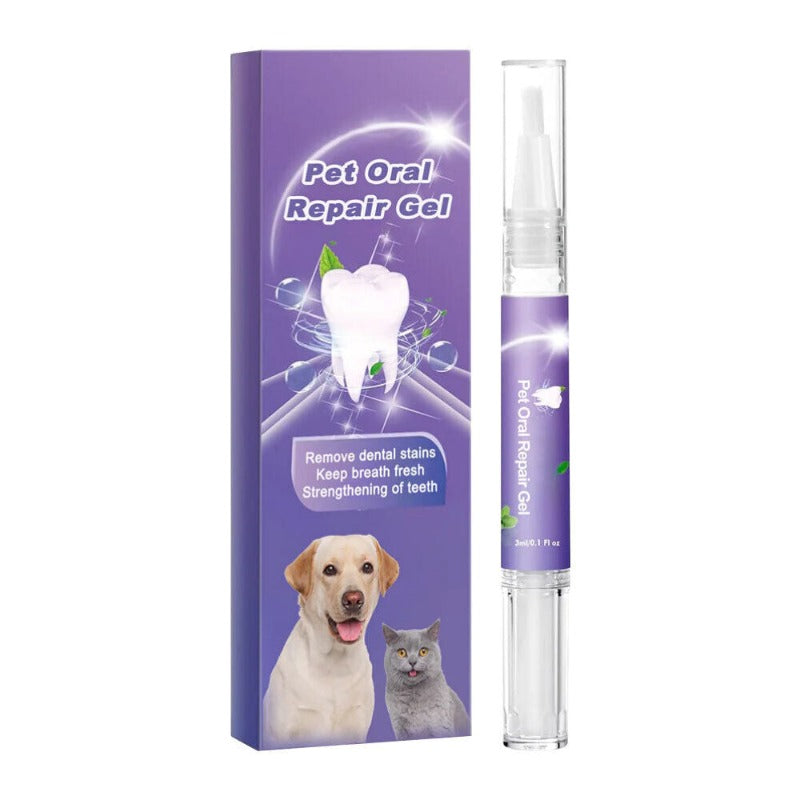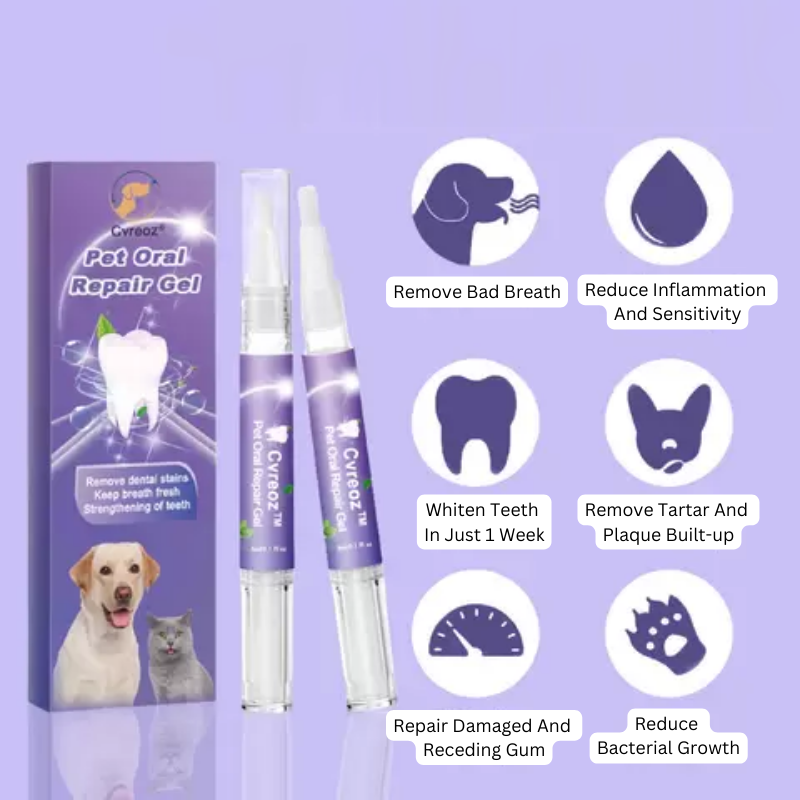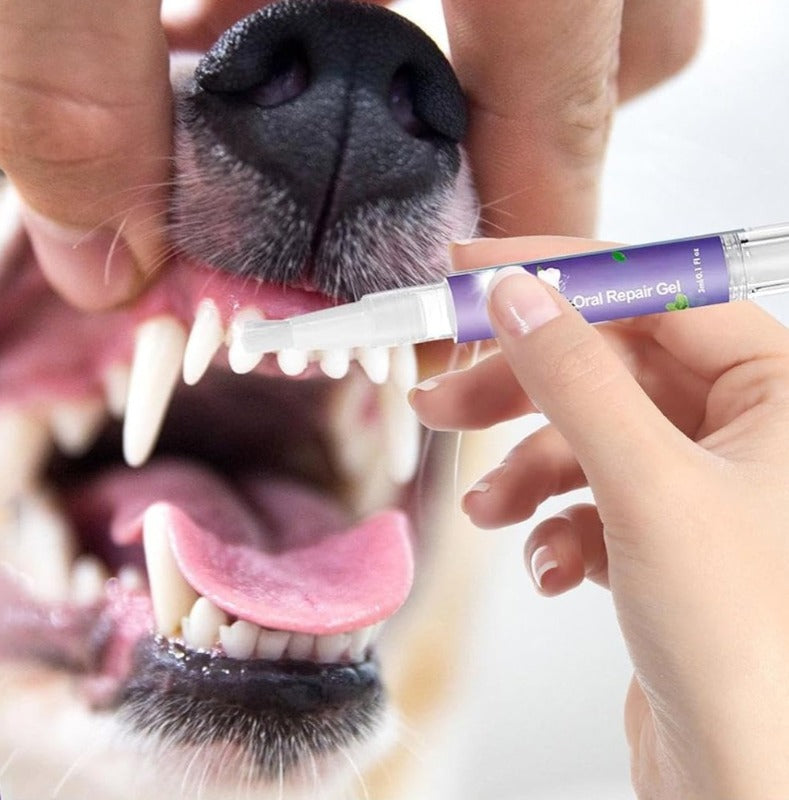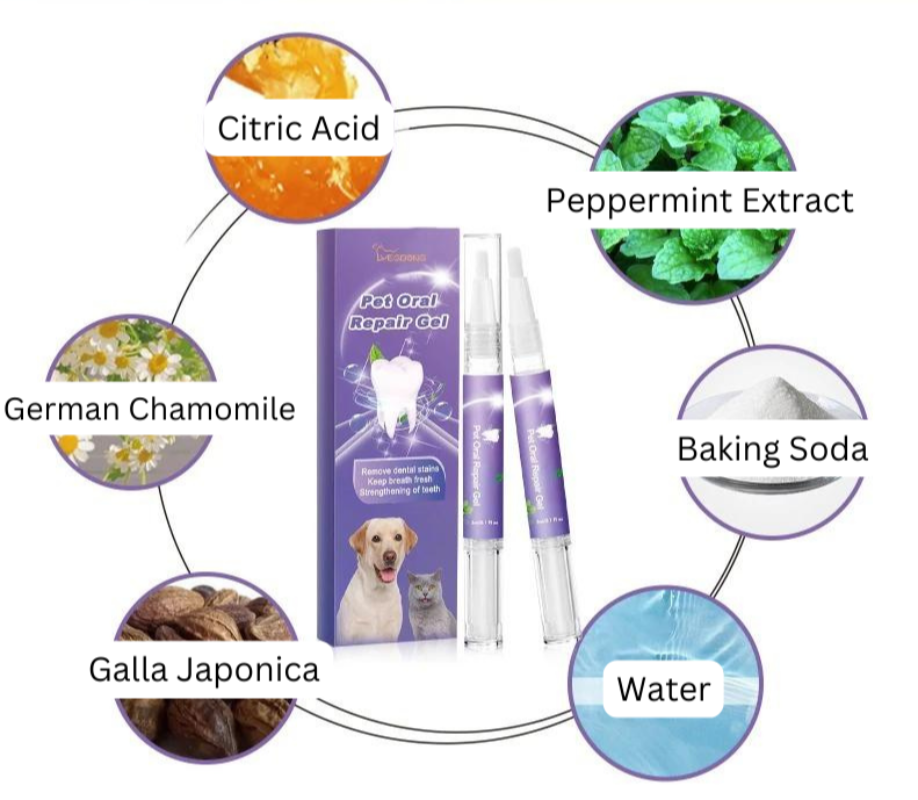 Paws Down, The Easiest Way To Keep Your Pet's Gums And Teeth In Tip-top Shape. 
🦷 Easy To Apply

No brushing needed. Toothbrushing can be a fur-flying experience for many pet parents. Our no-fuss, picky-pet approved easy application tip gives the same benefits, with none of the hassle.

🌱 Safe And Effective Ingredients

The perfect blend of science and nature, it is purrrfectly safe for your bestie. Our gel is free from alcohol, dyes, and fragrances. It's tasteless and odourless, making it a hit with both dogs and cats.

💜 Fresh Pet Breath

They may say it's treats, but it's really dental care that keeps pets happiest and healthiest. Our blend doesn't just mask odours, it gets to the root of the problem. Pawsitively guaranteed you will notice the difference from the very first use.
It works and saved me money.

⭐️⭐️⭐️⭐️⭐️

''I bought this for my Yorkshire terrier, his teeth were really bad with tartar build up and my vet quoted me over £500 to get them cleaned which I just couldn't afford.
I have been constantly been using this along with a tooth scraper on one tooth that was thick with tartar that my vet said could only be removed by them, well the vet was wrong Gleam Guard has softened the tartar and the last big chunk has come off.
It has also got rid of the other thinner tartar with this brilliant gel.''

- Mandy Sawyer

My vet commented how good my pet teeth look

⭐️⭐️⭐️⭐️⭐️

''I currently have 3 cats(ages 18, 10 and 5), one dog (4 years) and they have all been brought up on Gleam Guard for over 4 years and I have not had to pay for a single teeth cleaning or extraction in all that time. My pets have come from barns to shelters to hoarding situations and everything in between. They have all adapted to the gel quite easily. My vet has even commented on how good their teeth look. I order it by the dozens which lasts about 18 months.''

- Renee Palk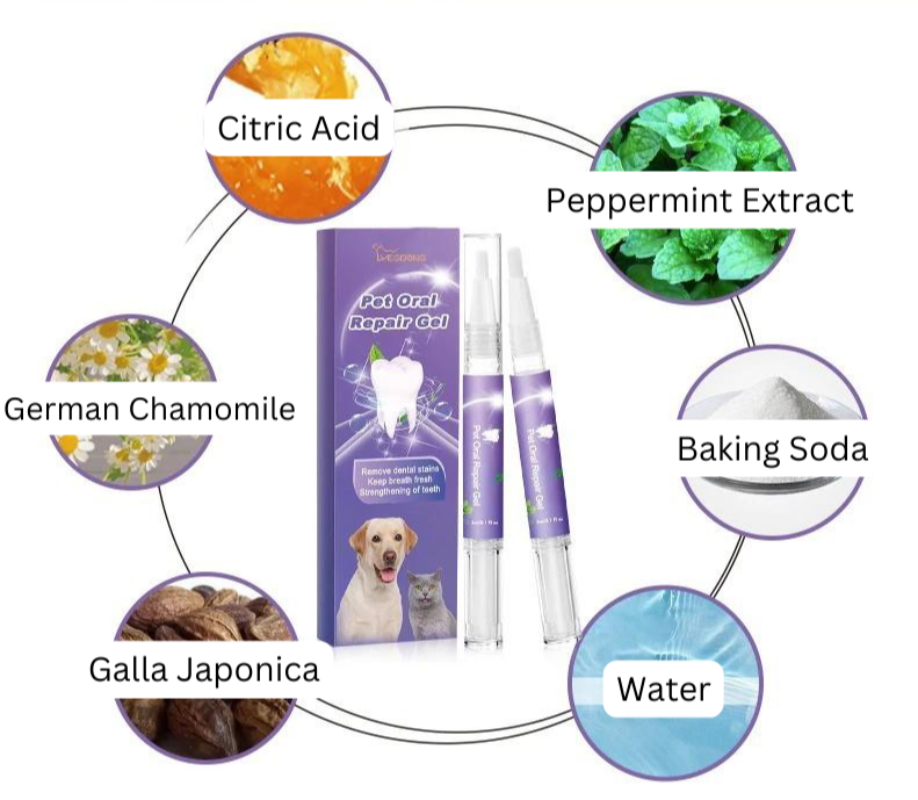 Key Ingredients
🌱 Baking Soda
🌱 Galla Japonica
🌱 Citric Acid
🌱 Peppermint Extract
🌱 German Chamomile
Buy Now
How It Works
Intensive Repair & Protection / Tried countless remedies for your pet's stinky breath to no avail❓

Gleam Guard's specialised blend of baking soda and peppermint extract works wonders to neutralise those stubborn bad odours, leaving your pet with wonderfully fresh breath.

Plaque & Tartar Control / Your vet's cleaning bill giving you a financial headache❓

The potent mix of our citric acid, galla japonica, and baking soda team up to melt away mineral deposits and plaque. This dynamic trio safeguards your pet's gums and teeth from decay, promising lasting oral health.

Natural Healing / Struggling with the tooth-brushing battles with your pet❓

Infused with German chamomile, renowned for its soothing properties, it gently relieves inflammation and sensitivity. It's a natural, gentle remedy to ease your pet's discomfort and make oral care a breeze!
⭐️⭐️⭐️⭐️⭐️

''I recommend the Gleam Guard Pet Oral Restorative Gel for pets with tartar buildup, infections, stains, and other dental hygiene concerns.

As a veterinarian, I can attest to its efficacy due to its unique formula with a robust blend of herbal extracts, minerals, vitamins, and organic compounds.

Not only does it adeptly dissolve and eliminate hardened tartar, but it also offers great protection against potential dental infections.''

- Dr. Dominika Baranska

DVM MRCVS GPCert

(a passionate veterinarian with 15 years of experience in cardiology, gastroenterology, stomatology and ophthalmology)
Fresh Breath Made Easy For Dogs, Cats & All The Critters You Love! 
What Makes Gleam Guard Special
Find out why you should choose Gleam Guard over other solutions.
Doggo breathe smells sweet!

⭐️⭐️⭐️⭐️⭐️

''Since we started using this for both our pups their breathe smells good again. No more sour kisses! They don't even notice when we put it on them! The vet also complimented their reduction in tarter build up in the annual check up! They've been on Gleam Guard for about 4 months! Whoohoo!''

- Mia Littleton
Trusted By 140+ Pet Parents With Their Happy Fur Babies
and the number is growing everyday.
Questions? We've Got You Covered
How do I use it?

1. Lift your pet's lips on either side of the mouth.

2. Apply the Pet Oral Repair Gel directly to the mouth daily.

3. Prevent your pet from eating or drinking for one hour after application.
Is it safe? What are the side effects?

Yes.

This product was formulated by pet health expert to ensure all ingredients' concentrations are safe.

Please monitor your pets for any adverse reactions if you are using this for the first time and consult with a veterinarian if any concerns arise.
Step 1 >> Order Instantly Today

Simply click the BUY NOW button and checkout securely today to get your order in progress.

Step 2 >> We Ship Within 24 Hours

Our happy warehouse staff will pack your Dream Pulse and ship them securely to your address.

Step 3 >> Healthy Teeth, Happy Pets!

Fresh breathe made easy with Gleam Guard.